Own Manufacturing Facilities for Railings, Gates and Metalwork
A further benefit of dealing with Procter Gates, Railings and Metalwork is that we have our own manufacturing facilities for bespoke product, with one focusing on steel fabrication. We also use the steel fabrication facility for the design and manufacture of bespoke fencing and gates, with this being all part of how we are able to so successfully handle project which involve all three areas. We operate across the UK, with bases in the north of England, SE England and South Wales.
Railings, Gates and Metalwork in Your Design
We are also not restricted to standard products, we can create bespoke shapes to architects' drawings. See examples from our gallery.
We have two nearby manufacturing facilities with one handling steel. Our combined manufacturing capability is truly impressive and to summarise the key areas:
Metal punching and folding
Laser cutting - e.g. for logos and intricate shapes
Galvanising if appropriate
Powder coating in any standard colour or special
Stainless steel fabrication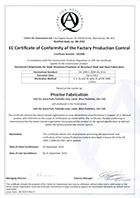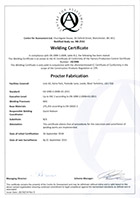 Send to a colleague
Close[x]